July 14th, 2008 by
Benj Edwards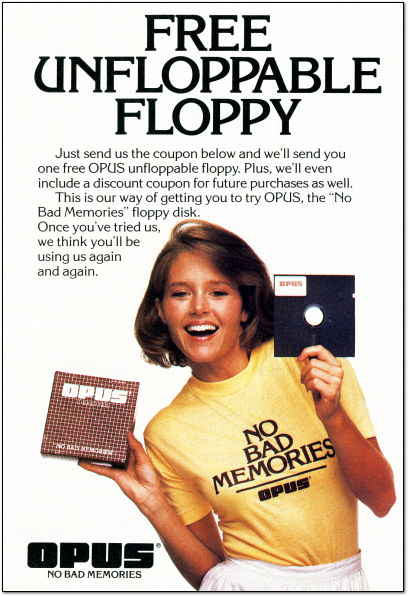 Click above for full ad.
"No Bad Memories."
That sounds more like a slogan from a denial-centric pop psychology movement or a dystopian memory-wiping company than from a maker of computer diskettes. It would be easy to dismiss this marketing tagline as absurd, were it not for the enthusiastic bearer of the message: a buoyant, bubbly woman cheerfully peddling OPUS-brand floppy disks. Indeed, she looks like her brain was totally wiped clean by OPUS's technical staff some time in the early 1980s — a testament that their memory technology really works.
By the way, here's a high-resolution scan of Floppy Girl in PNG format for those of you out there who might want to turn it into a desktop background. Or print it out and impress your nerd friends with vintage floppy pin-up art.
[ From Popular Computing, February 1985 ]
Discussion topic of the week: Have you ever lost important computer data to a hard drive or disk failure? Share your disaster stories below.
If you use this image on your site, please support "Retro Scan of the Week" by giving us obvious credit for the original scan and entry. Thanks.