July 9th, 2008 by
Benj Edwards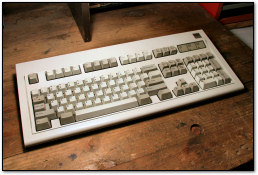 Today, PC World published the latest in my line of workbench tech autopsies. This time I dissected the venerable IBM Model M Keyboard, which some call the greatest keyboard of all time (obviously, I agree with them). While I took all the pictures as usual, the caption bubbles on a couple of the slides are courtesy of PC World's art department. Here's an excerpt from the introduction:
IBM's Model 5150 PC, released in 1981, was a classic, perhaps the computer most responsible for launching the PC revolution. Sadly, however, its keyboard did not live up to that standard. This 83-key model was IBM's first, and critics hated it, complaining about its awkward layout and nonstandard design. Stung by the criticism, IBM assembled a ten-person task force to craft a new keyboard, according to David Bradley, a member of that task force and of the 5150's design team. Their resulting 101-key design, 1984's Model M, became the undisputed bellwether for the computer industry, with a layout that dominates desktops to this day. As we peek under the hood of this legend, you'll soon see why many consider the Model M to be the greatest keyboard of all time.
It's no secret that the title "world's greatest" ultimately comes down to a matter of opinion. Like the 10 Worst PC Keyboards of All Time, many people are bound to disagree. That's OK. Feel free to share your picks for the greatest (or simply your favorite) keyboard of all time in the comments below.
(By the way, if you liked this piece, you might also enjoy checking out my previous teardowns of the Apple IIc and the TRS-80 Model 100.)