March 27th, 2008 by
Benj Edwards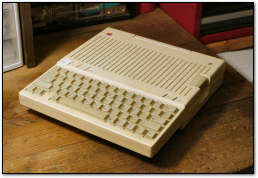 My trusty workbench has officially gone mainstream, courtesy of PC World. They've just published my autopsy of Apple's first portable computer, the Apple IIc, as a richly illustrated slide show. It's peppered with factoids and doses of VC&G-style humor, so I think you guys will like it. Here's an excerpt from the intro:
Earlier this year Apple released its thinnest and lightest portable computer yet, the MacBook Air, to great fanfare. But it wasn't the first time for such an event: Twenty-four years ago critics hailed another Apple computer–its first portable ever–as a masterpiece of compact industrial design. The Apple IIc marked an important milestone for Apple's stalwart Apple II line, squeezing the power of a full-size IIe into a svelte 7.5-pound package.
With that intro in mind, I have a question for my keenly intelligent, historically-minded readership: Which release made more of a splash? The Apple IIc or the MacBook Air?