September 15th, 2008 by
Benj Edwards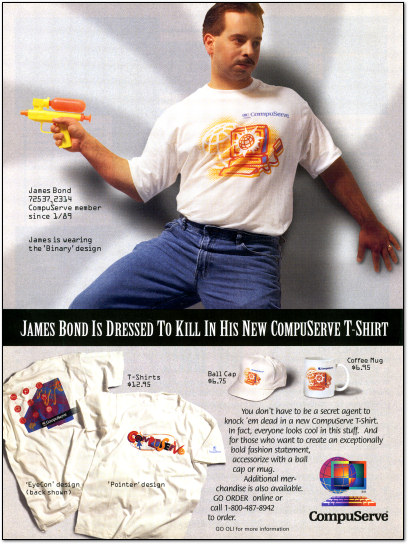 The Man with the Golden Gun
I spent more hours on CompuServe in the early 1990s than I probably should have — considering it cost something like $4.80 (US) an hour. But of all the commercial online services at the time, CompuServe's combination of history (it had been running since 1969), depth, and variety blew the others out of the water. I scanned this particular ad from CompuServe Magazine, which — believe it or not — was one of my favorite magazines back then. Ah, the good 'ole days.
I'm guessing that CompuServe actually found a member named "James Bond" and got him to pose for this advertisement. He may look harmless, but that gun is filled with instant death acid; it's one of Q's new toys.
[ From CompuServe Magazine, September 1995 ]
Discussion topic of the week: Did you ever use a commercial online service such as CompuServe, Prodigy, AOL, Delphi, or Q-Link? Share your memories and your favorites below.
If you use this image on your site, please support "Retro Scan of the Week" by giving us obvious credit for the original scan and entry. Thanks.