September 22nd, 2008 by
Benj Edwards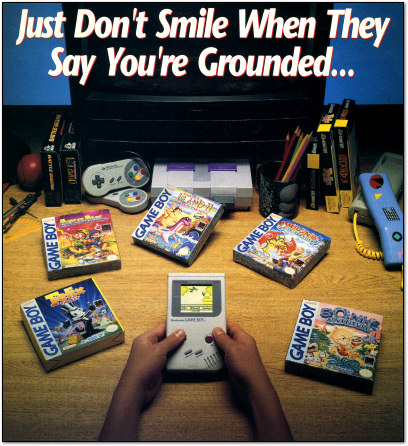 (Click above for full advertisement)
The promise of the Game Boy could never have been made more clear than in this 1993 ad by Hudson. Confined to your room? No problem; play your Game Boy. The portable nature of Nintendo's first handheld console opened up incredible new possibilities for how and where you could play video games.
Those possibilities felt very real when I finally convinced my dad to buy me a used Game Boy around 1990. (Sure, it had just come out in 1989, but it felt like forever because I was begging my parents for one all along the way.) With the Game Boy, I could play video games in the car, in school (although I never did), in bed at night, and I even remember wandering through the local art museum — black Game Boy earbuds in place — glued to Tetris instead of paying attention to the paintings. Oh, that glorious stereo sound. Those were amazing days indeed.
[ From Electronic Gaming Monthly, June 1993 ]
Discussion topic of the week: What was the first handheld electronic game you ever played? Also, feel free to share your first Game Boy experience.
If you use this image on your site, please support "Retro Scan of the Week" by giving us obvious credit for the original scan and entry. Thanks.