October 13th, 2008 by
Benj Edwards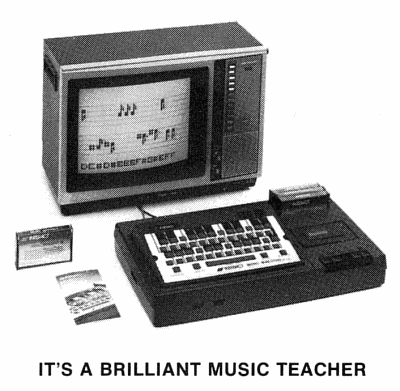 (click for full advertisement)
When I was compiling my list of the ten worst PC keyboards of all time last year, I considered many rare and obscure computers, like this Interact Model One. If I had included the Interact, it probably would have been high on the list. Among the original chiclet keyboard's eccentricities is the fact that the number row starts with 2, counts up to 9, then 0, then finally reaches the number 1 (sort of like a really old typewriter whose lowercase "L" was used for "1," but lacked a "1" key altogether.).
The advertising copy bristles with entertaining hyperbole and awkwardness, with lines like:
"Giant Computer Hardware"

"…it is the only computer able to transmit full sound through a TV."

"The Most Efficient Business Tool Ever"

"…our Level II Basic is Interact's version of the Microsoft and is…"

"An Incomparable School Teacher"
And notice that one of the cassette programs available is titled "Star Track." Classic. Did anybody out there have one of these?
[ From BYTE, April 1979 ]
Discussion topic of the week: What's the worst computer keyboard you've ever used?
If you use this image on your site, please support "Retro Scan of the Week" by giving us obvious credit for the original scan and entry. Thanks.