November 17th, 2008 by
Benj Edwards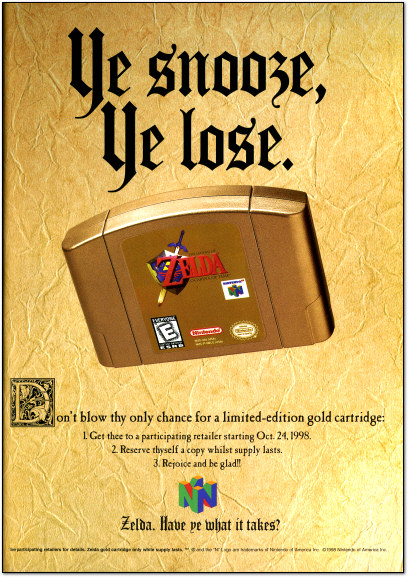 Get thee to a nunnery
Ten years ago this Friday, Nintendo released what many consider to be the greatest Zelda title of all time, if not one of the greatest video games ever created. The Legend of Zelda: Ocarina of Time went on sale in Japan on November 21, 1998 after a long period of eager anticipation on the part of Zelda fans, who hadn't seen a home console Zelda title since 1991's A Link to the Past on the Super NES. Nintendo hyped up the release of their new game by offering a limited edition gold-colored cartridge (seen here) to those who pre-ordered Ocarina in the US.
Sadly, I missed out on the gold carts, but I did manage to snag a copy (a very gray copy) for Christmas 1998. Honestly, since playing through Ocarina of Time almost a decade ago, that personal experience — in terms of its joy, its depth, and its enchanting, enveloping nature — has yet to be surpassed by any other title. Now that's a good video game.
[ From Electronic Gaming Monthly, November 1998 ]
Discussion topic of the week: Tell us why you think the Ocarina of Time is great. How, if at all, has the game been influential to the video game industry?
If you use this image on your site, please support "Retro Scan of the Week" by giving us obvious credit for the original scan and entry. Thanks.