December 9th, 2008 by
Benj Edwards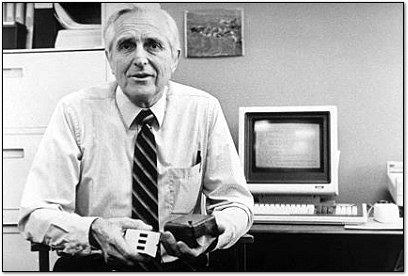 In case you were wondering, the computer mouse turned 40 today.
… or, at least, that's what everybody is saying, despite the fact that Douglas Engelbart cobbled together his first mouse in 1963 (which would make the mouse something more like 45). But ah, the vagaries of media semantics — somebody toots their horn and then everybody has to jump on board.
Despite the numbers game, this date is indeed a special anniversary, because 40 years ago today, Douglas Engelbart presented "the mother of all demos" at the Fall Joint Computer Conference in San Francisco. This event was notable, among other reasons, for being the first time the public laid eyes on the computer mouse.
By now, you're probably saying, "That's great Benj, but I'm suspicious that you actually posted something on VC&G! Where do you and your professional career fit into this?" Well, I'm getting to that. In honor of this anniversary, Macworld asked me to write a short piece on the history of the mouse. After deliberating with myself for about 30 seconds, I accepted the assignment.
Over the next few days, I managed to assemble a comprehensive timeline that traces the mouse's technical evolution through the years. Unsurprisingly, you can find it on Macworld.com. Feel free to check it out if you're interested, and tell them Benj sent ya. Even if you don't check it out, remember to stare extra hard at your mouse today and contemplate its origins in the vast foggy distance of time.