February 4th, 2009 by
Benj Edwards
Press photographers wait for Dwight D. Eisenhower, 1951
Photo: Gordon Parks / LIFE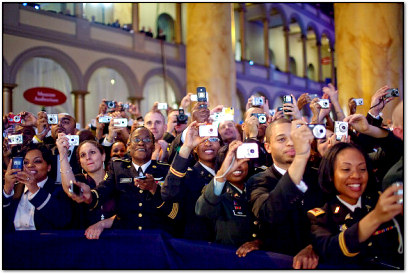 Crowd members photograph Barack Obama, 2009
Photo: Pete Souza / White House
Digital technology has transmogrified today's consumer cameras into tiny, futuristic-looking gadgets. Notice how nobody holds them to their face anymore — they just stare at LCD screens.
Not only have the cameras changed, but the photographers have changed as well: it seems that everyone has an imaging device in their pocket these days. With the help of a blog, flickr account, or YouTube, ordinary people on the street often beat professional photojournalists to the punch when it comes to breaking news.
Of course, press photographers still exist in 2009, and their cameras are much bigger and more professional-looking than those seen here. I was just struck by the contrast between the flashbulb-slingers of old and the average citizen photographer of today.