February 9th, 2009 by
Benj Edwards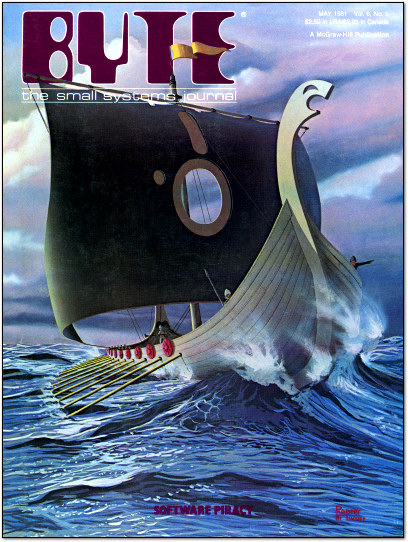 It's the software Vikings!
Heh. And you thought digital piracy was a new problem. It's actually as old as the PC software business itself. Some of the earliest evidence of this comes from a famous February 1976 open letter to the Homebrew Computer Club in which Bill Gates (then "General Partner" of a small company called Micro-Soft) protested the rampant "theft" of his company's popular Altair BASIC.
Reflect on that date for a moment: February 1976 — less than a year after the Altair 8800 launched the personal computer revolution, people were already illegally copying Microsoft products with great abandon. (Some things never change.) Of course, selling pre-programmed software for personal computers was a new concept back then. And heck, personal computers were a new concept back then.
But as time passed and PCs grew in influence, the piracy problem didn't go away. In fact, it continued as a hot-button topic throughout most of the 1980s. BYTE magazine devoted its May 1981 issue to the subject, commissioning its regular cover artist, Robert Tinney, to provide a visual hook for the monthly theme. Meditating on "software piracy," Tinney concocted a potent and iconographic image of a fierce viking ship cutting through rough seas, its massive floppy disk sail standing at full mast. To this day, the image (seen above) remains Tinney's most famous illustration from the BYTE years.
If his prints of this image hadn't sold out long ago, I'd buy one in a heartbeat.
[ From BYTE, May 1981 ]
Discussion topic of the week: Do you pirate commercial software? Why or why not?
If you use this image on your site, please support "Retro Scan of the Week" by giving us obvious credit for the original scan and entry. Thanks.