Friday, July 7th, 2017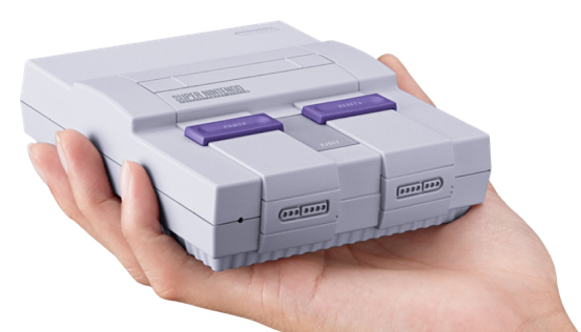 By now, all of you have probably heard about Nintendo's upcoming Super NES Classic Edition, which the firm announced on June 26. It's a tiny HDMI-capable Super NES that plays 21 built-in games and will retail for $79.99 US. And it's due for release on September 29, 2017.
It is also, quite possibly, intended to be a huge publicity stunt.
You guys may remember the absolute fiasco that was the NES Classic Edition — Nintendo's miniature HDMI NES with built-in games. The NES Classic edition was announced on July 16, 2016 and launched on November 11th of that year for $59.99.
Of course, when November 11th, came around, shoppers snapped up the limited supply Nintendo produced within seconds on Amazon.com and at other retailers, leaving many thousands of NES fans frustrated and unable to ever buy the tiny wonder console for a reasonable price.
Yes, that included me. Scalpers on eBay turned around and immediately sold the NES Classic Edition for 200% the retail price, and today they go for around $200-$300 unopened on eBay. (I did eventually buy one on eBay for around $250.)
I'm tempted to ask: Will the Super NES Classic Edition suffer the same fate? But this isn't the right question. The question should be: Is the launch and availability of this new product going to make a mockery of Nintendo's cultural legacy?
[ Continue reading Nintendo is Playing Risky Games With Its Cultural Legacy » ]