December 10th, 2012 by
Benj Edwards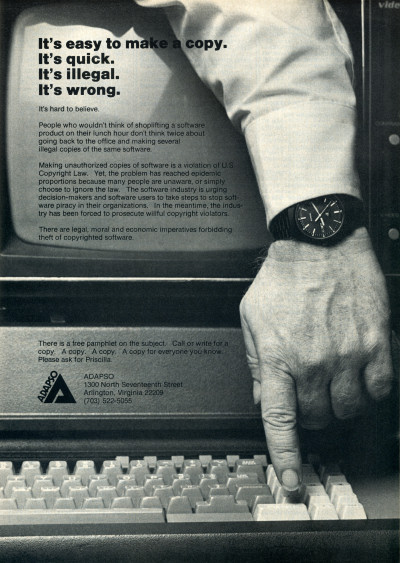 Piracy is as easy as hitting the Enter key on your numeric keypad.
27 years ago, the industry group Association of Data Processing Service Organizations (ADAPSO) created this public service ad warning of the evils of software piracy. I've transcribed its text below — just so you don't miss it.
It's easy to make a copy.
It's quick.
It's illegal.
It's wrong.

It's hard to believe.

People who wouldn't think of shoplifting a software product on their lunch hour don't think twice about going back to the office and making several illegal copies of the same software.

Making unauthorized copies of software is a violation of U.S. Copyright Law. Yet, the problem has reached epidemic proportions because many people are unaware, or simply choose to ignore the law. The software industry is urging decision-makers and software users to take steps to stop software piracy in their organizations. In the meantime, the industry has been forced to prosecute willful copyright violators.

There are legal, moral and economic imperatives forbidding theft of copyrighted software.

There is a free pamphlet on the subject. Call or write for a copy. A copy. A copy. A copy for everyone you know.
Please ask for Priscilla.

ADAPSO
1300 North Seventeenth Street
Arlington, Virginia 22209
(703) 522-5055
"A copy. A copy. A copy. A copy."
It really says that. I think it's supposed to be a joke, albeit a very bad one.
ADAPSO changed its name to Information Technology Association Of America (ITAA) in 1991, although its supposedly current website is now owned by the International Trial Attorneys Association, so who knows if it even exists today.
[ From Compute!, November 1985, p.67 ]
Discussion Topic of the Week: What was the first piece of software you ever copied (or received a copy of) illegally?
—
See Also: Why History Needs Software Piracy (2012)
See Also: [ Retro Scan of the Week] Software Piracy (2009)
See Also: [ Retro Scan of the Week ] "What's Wrong With Copying Software?" (2008)
See Also: Old-School PC Copy Protection Schemes (2006)
See Also: EGM Advertisement: Sell Famiclones, Go to Prison (2006)