December 10th, 2012 by
Benj Edwards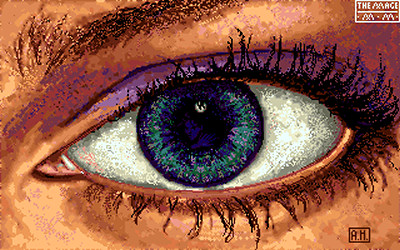 Click to see other views of this image: [ Original Size ] [ 2X Zoom ] [ 3X Zoom ]
This eye is more than meets the eye. You probably can't see it at this size, but click on the "3X Zoom" link above and you might notice a face and what might be a shoulder (or a six-fingered hand) reflected in the pupil of the eyeball. Neat detail.
Unlike many GIFs that circulated back in the day, this one is signed — twice, in fact. In the upper left, we see a small box containing stylized letters spelling "The Mage." In the lower right, we see "A.H."
I've seen other GIFs with the same resolution and color depth signed "A.H.", so I assume that is the artist. "The Mage" might have been the name of a BBS that happened to tag the image, or perhaps is was simply an alias of A.H.
When combined with its 320 x 200 dimensions, its odd 5-bit / 32-color color depth reveals that this image was created on an Amiga. That means it is likely that it did not originate as a GIF file, and that it could be older than the 1992 file date. But until I find an older source of the image, I won't know for sure.
Retro GIF of the Week Fact Box
Source File Name:
EYE2.GIF
Source File Date:
August 6, 1992
Source File Format:
GIF – 87a (non-interlaced)
Dimensions:
320 x 200 pixels
Color Depth:
5-bit (32 color) (Amiga OCS)
Origin Platform:
Amiga
Derived From:
Unknown
Creation Date:
Unknown
Artist:
Avril Harrison (Updated 12/11/2012)
If you know more about the origin of this image, please leave a comment.