March 9th, 2009 by
Benj Edwards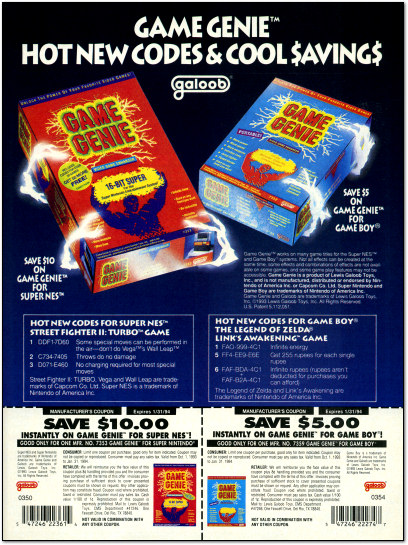 Your wish is my command.
If my previous posts on the Game Genie are any indication (wow, they're from 2005 — that's vintage), then I'm a huge fan of the game-manipulating device — assuming, of course, that my 2005 self wasn't lying just to throw off the accuracy of a future Retro Scan post.
But heck; I shouldn't have to read my old blog posts to know that. In the early 1990s, I spent untold numbers of hours developing my own Game Genie codes for games like Super Mario Bros. and Super Mario Bros. 3 on the NES, and also for Super Mario Land for the Game Boy (I need to make a homebrew gallery about that). I loved the Game Boy Game Genie so much that I took a hacksaw to its extraneous plastic parts so it would fit on the Super Game Boy. It was a weird kind of love, but it worked.
From there, I moved on to the Super NES Game Genie (I don't recall developing my own codes for that), and I eventually bought a used Game Genie for the Sega Genesis. The only one I never acquired was the Sega Game Gear version. But I didn't have a Game Gear back then, so that would have just been silly.
[ From Electronic Gaming Monthly, November 1993 ]
Discussion topic of the week: The Game Genie: reality-bending peripheral or wussy crutch for bad players?
If you use this image on your site, please support "Retro Scan of the Week" by giving us obvious credit for the original scan and entry. Thanks.