April 13th, 2009 by
Benj Edwards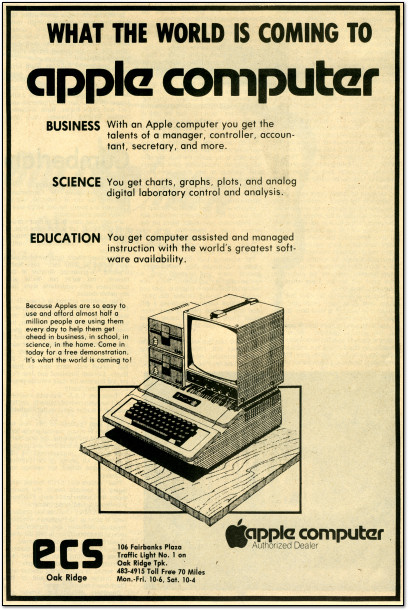 Computers? What is the world coming to?
Here's another item from my grandmother's cedar chest — I love these old newspaper line-art illustrations. ECS was Oak Ridge, Tennessee's first retail computer store, if I recall correctly from an old article I read. They advertised quite a lot in the local newspaper, including the ad for the Apple II you see above.
The Apple II's configuration with two Disk II drives and a small monitor on top is interesting. I believe I've seen Apple promotional photos from the early Apple II days with the same setup. The relatively tiny display seems somewhat silly from a modern perspective, but computer monitors were very expensive back then. A large one that would have covered the entire top of the Apple II would have cost $400 or more in 1980-ish dollars.
In fact, just perusing some ads in the back of a 1981 BYTE magazine, I don't see any monitors offered larger than a 13″ color Zenith for $399.95 ($933 in 2009 dollars). 9-inch to 12-inch monochrome monitors cost anywhere from $150 to $260, which is equivalent to $350 to $606 in 2009 dollars. You get the point — even entry-level displays back then cost an arm and a leg. Even if you paid two arms and two legs, the monitors were still relatively small.
[ From The Oak Ridger (World's Fair Issue), March 25th, 1982 ]
Discussion topic of the week: Tell us about your first Apple II experience. Where and when was it, and why were you using it?
If you use this image on your site, please support "Retro Scan of the Week" by giving us obvious credit for the original scan and entry. Thanks.