June 22nd, 2009 by
Benj Edwards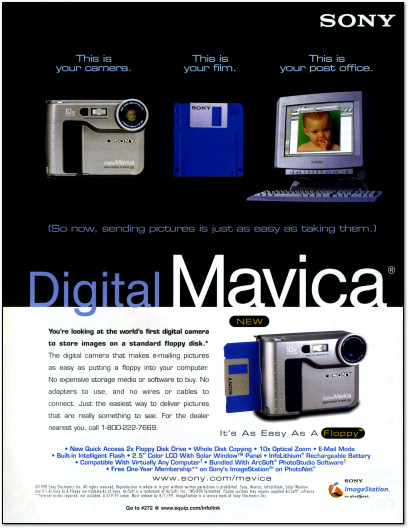 "It's as easy as a floppy."
The Sony Digital Mavica FD-7 seemed so exciting back when it was new, and I wanted one. Its attractiveness stemmed from the cheap and familiar media it used for image storage: standard 3.5″ floppy disks. Most digital cameras of the day required expensive, obscure flash cards for storage and proprietary software to extract photos from the camera (through a painfully slow serial cable). With the FD-7, one needed only to insert the image disk into one's computer floppy drive and copy the pictures off. But the technological price of this convenience was high: the camera's maximum image resolution was 640×480 — anything bigger, and you'd only be able to fit a couple photos on a single 1.4 megabyte disk.
Funny enough, I recall ghost enthusiasts on the Internet circa 1998 picking the FD-7 as their camera of choice for its uncanny ability to capture vast flurries of out-of-focus dust (aka "ghost orbs"). That endorsement alone speaks volumes about the camera's lackluster optical qualities. Also, this new breed of digital ghost hunters didn't have to feel guilty about taking endless rolls of 35mm dust photos, which can get quite expensive to develop.
[ From Equip, September 1998 ]
Discussion topic of the week: Tell us about the first digital camera you ever used. What brand was it, and what image resolution could it capture?