November 30th, 2009 by
Benj Edwards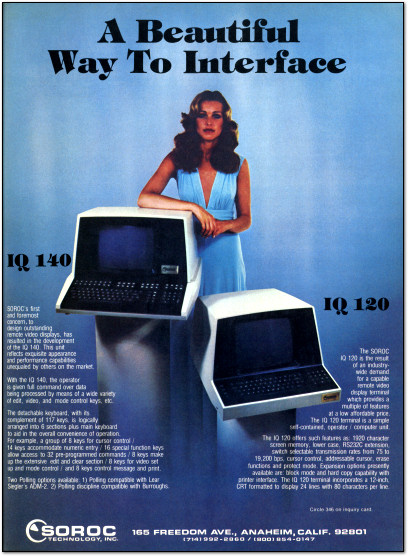 Computer shopping in the Fortress of Solitude.
In this ad for the SOROC IQ 120 and IQ 140 terminals, we see a woman who clearly wants to interface with something — but what? Very few peripherals understand the cryptic FAJI/NA protocol (Female Anatomical Jiggy Interface / Network Access). Even with the proper connector and hardware handshaking, those few who succeed in uploading might end up with a virus.
Oh, I get it…they're talking about the terminals. Nothing to see here. Move along. Move along.
[ From Byte Magazine, November 1979 ]
Discussion Topic of the Week: Have you ever regularly used a text-based terminal to get serious work done? Tell us about it.