March 8th, 2010 by
Benj Edwards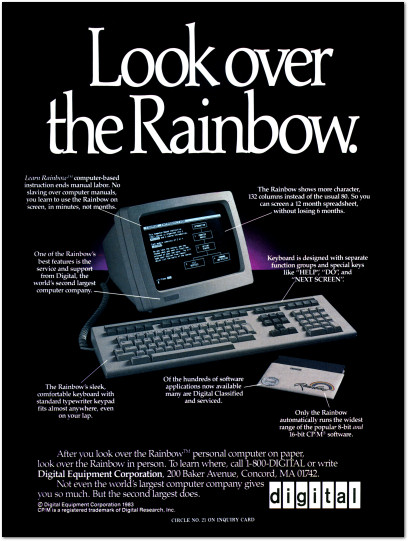 "Look over the Rainbow"
In the early 1980s, mainframe giant Digital Equipment Corporation (aka DEC for short) tried its hand in the personal computer market with the DEC Rainbow (1982). Since the market had not settled on an industry-wide PC standard at that time, DEC decided to support the two major operating system platforms of the day: Z80-based CP/M and 8088-based MS-DOS. The Rainbow contained both these processors and was capable of booting both OSes. Interestingly, despite the machine's use of the 8088 and MS-DOS, the computer remained largely incompatible with the IBM PC from a hardware standpoint.
[ From Interface Age, November 1983, p.51 ]
Discussion Topic of the Week: Imagine a world in which Digital Research CP/M, rather than MS-DOS, became the standard operating system for PCs worldwide in the 1980s. (That is, far beyond CP/M's market share of the 1970s.) How might PCs today be different?