May 17th, 2010 by
Benj Edwards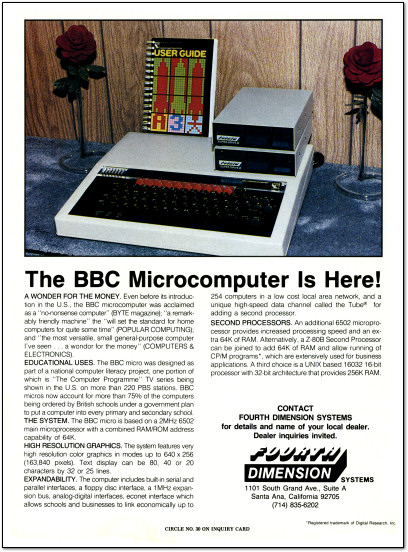 IT"S HERER AHH1!!
This scan of an American BBC Microcomputer ad might be of particular interest to our British friends, who may be curious as to how one of the UK's most famous early PCs was received in the United States. The truth is that the BBC Microcomputer is virtually unknown here. I've never seen one in person, and I'd never even heard of it until the Internet era. I suspect US sales of the BBC Microcomputer were limited in part due to the low market footprint of importers like "Fourth Dimension Systems," as seen in this ad.
I know very little about the BBC Microcomputer (although I'd love to have one, if anyone wants to send a unit over). If any readers out there are familiar with the BBC Micro, I'd be interested to hear some history and trivia about the machine in the comments.
[ From Interface Age, November 1983, p.30 ]
Discussion Topic of the Week: Have you ever owned a British-designed PC? If so, tell us about it. If many, tell us your favorite.