May 24th, 2010 by
Benj Edwards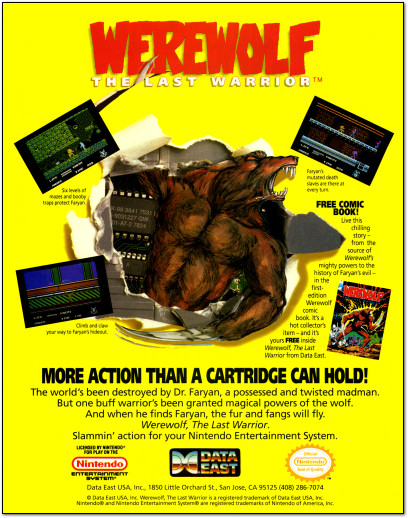 More mediocrity than my attention can hold.
I was so excited when I first saw Werewolf: The Last Warrior in my local Blockbuster, circa 1991. I excitedly rented the game and took it home, only to have my hopes dashed against the rocks of expectation upon inserting it into my NES and playing.
The game was terrible. Well… to be generous, it was an intensely derivative action-platformer, Ã  la Ninja Gaiden — one of hundreds on the NES platform.
While Werewolf may not be remembered for original gameplay, it will forever be immortalized as one of VC&G's 2009 Halloween Costume Ideas. And that's the way it should be.
[ From Video Games and Computer Entertainment, April 1991, rear cover ]
Discussion Topic of the Week: What's the weirdest video game main character of all time?