June 7th, 2010 by
Benj Edwards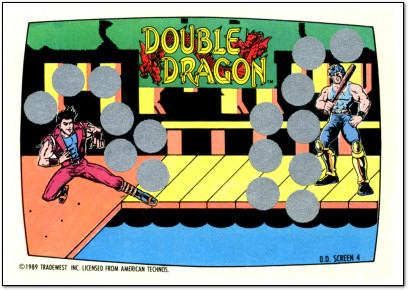 He soon landed with an embarrassing splash.
This Double Dragon scratch-off game card came from a pack of Topps "Nintendo Game Pack" cards that I bought, likely in a drugstore, circa 1989. Of all the cards in the pack, this one remains unscratched for whatever reason. Perhaps I wanted to preserve the mystery and potential of a single unscratched scratch-off card. After all, the cards become worthless and ugly after you impart jaggy scratch lines all over those silver little pads.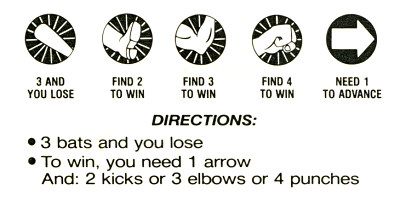 The reason Nintendo and the scratch-off concept share the same milieu is that each card presents the owner with a game of sorts. Once you scratch a pad, you reveal a graphical symbol that determines your fate depending on the directions printed on the back of the card. In this case, you need "1 arrow and 2 kicks or 3 elbows or 4 punches" to win. I'm not sure how many variations of the symbols Topps printed under those silver pads, but I hope there was more than one. Otherwise, if you had multiple copies of the same card, the "game" might have unfolded in exactly the same way if you scratched the same pads.
Nintendo Game Packs cards featured Super Mario Bros., Punch-Out!!, and The Legend of Zelda as well, although those were too irresistible for me to not scratch off, so none survive in tact in my collection.
A number of websites examine these cards in more detail. This one has scans of all the cards in the series. Another one features photos of the stickers that came with each pack of cards — I remember plastering those all over my walls as a kid. I may have a couple of the uglier stickers left un-peeled somewhere. If I ever find them, I'll probably just burn them as an offering to Hgnagg, the God of Nostalgia.
[ From Topps Nintendo Game Packs Trading Cards, circa 1989 ]
Discussion Topic of the Week: Did you collect trading cards as a kid? What kind(s)?