September 6th, 2010 by
Benj Edwards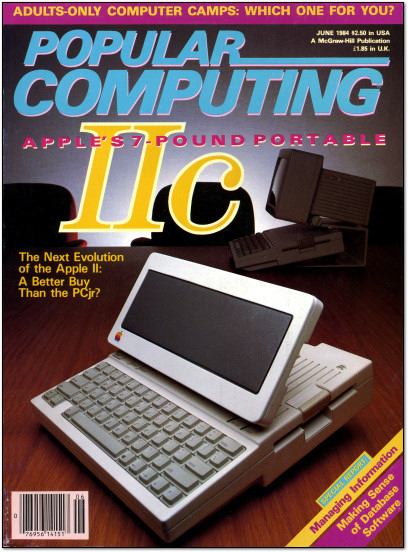 Apple IIc and the Apple Flat Panel Display
I've always loved this cover shot. It bursts with vivid, colorful photography of a particularly beautiful Apple IIc.
"Particularly," I said, because this Apple IIc is not in its usual configuration. It sports a rare and wondrous peripheral known as the Apple Flat Panel Display, an LCD monitor which initially sold for $595 (that's about $1,205 in 2010 dollars) in 1985.
Despite being Apple's first LCD display, the device sold poorly. Here's why: For one thing, it was way too expensive for what you got. And what you got wasn't that great. Sure, it displayed 80 columns by 24 lines and even high resolution graphics, but in a bizarrely squat screen ratio. In a 1985 review of the monitor, Infoworld wrote, "…characters displayed on the Flat Panel Display have the same oddly stretched appearance of writing on a fat man's T-shirt."
The same review notes how difficult it was to read the non-backlit display under any lighting conditions — bright light, dim light, direct light, etc. The combination of intense glare and low contrast made the monitor uncomfortable to use. Mix those elements together, and you have yourself a recipe for a genuine ahead-of-its-time Apple flop: innovative, but not quite ready for prime time yet. Sound familiar?
Still, I'd love to get my hands on an Apple Flat Panel Display and report my experiences directly to you. If anyone out there has one that they'd like to get rid of, please let me know.
[ From Popular Computing, June 1984, cover ]
Discussion Topic of the Week: When did you first use a computer with an LCD screen? When (if ever) did you switch to using LCD screens on your desktop PCs?