September 13th, 2010 by
Benj Edwards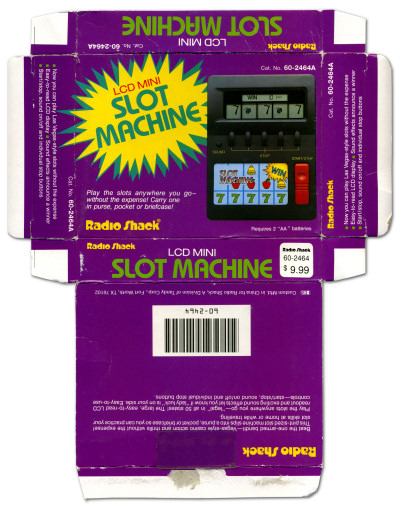 "Play slots anywhere you go without the expense!"
I believe I bought this Radio Shack LCD Mini Slot Machine unit at a hamfest back in the 1990s. The game broke not too long afterward, but I apparently kept the box and the manual.
Fast forward 15 years later. I recently discovered the box in a pile of my old stuff at my parents' house. After flattening the box, I scanned the whole thing so you can create your own tiny three dimensional reproductions of it at home (if you're into that Radio Shack diehard papercraft thing). Heck, fill a whole room with them and dive in!
[ Radio Shack LCD Mini Slot Machine box, 1994 ]
Discussion Topic of the Week: Did you (or do you) ever own any Radio Shack electronic games? Which ones?