October 11th, 2010 by
Benj Edwards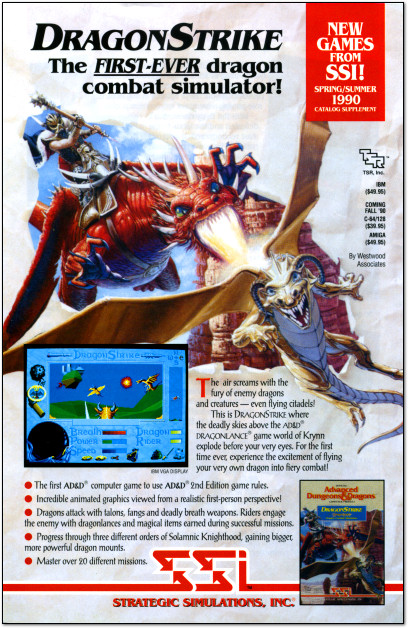 "Dragons attack with talons, fangs, and deadly breath weapons."
Just yesterday, my wife's uncle brought over boxes of his old Atari ST stuff and dumped them at my house (per my request, of course). Among the delightful vintage goodies was a Mega ST2 and dozens of boxed Atari ST games. I opened the box for Questron II and was immediately confronted by this colorful 5.5″ x 8.5″ flier for DragonStrike, another game from Strategic Simulations (SSI).
The design proudly proclaims, "The FIRST-EVER dragon combat simultor!" — as if "dragon combat simulator" was a genre gamers had been clamoring for ceaselessly for years.
I've never played this game, but I was always a fan of SSI's gaming titles. They published some of computer gaming's highest quality software back in the late 1980s and early 1990s.
[ From "New Games from SSI! Catalog Supplement," Spring/Summer 1990, p.1 ]
Discussion Topic of the Week: What are some of your favorite Strategic Simulations games?