October 18th, 2010 by
Benj Edwards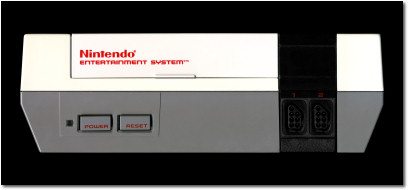 One of the most successful consoles of all time.
Nintendo released the Nintendo Entertainment System 25 years ago today in the US. Here's a scan of that famous console itself.
I first played a NES in 1986 or 1987, likely with Super Mario Bros. as my first game (as described here). What an amazing experience it was. To say that the NES defined video gaming for my generation is almost an understatement. From 1986-1990, the term "video game" was synonymous with "Nintendo" for kids in the US. From their perspective, there was no other.
Unlike many kids my age, I was aware of what had come before (Atari), and that made the NES all the more amazing. Happy 25th birthday, NES. My generation worships you.
[ Nintendo Entertainment System Console (face), circa 1985 ]
Discussion Topic of the Week: How did you feel when you played a NES game for the first time? Tell us when/where it happened and describe the episode.