November 2nd, 2010 by
Benj Edwards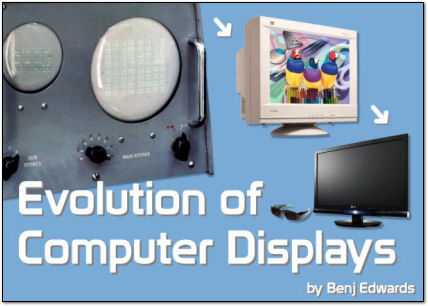 PC World recently published "A Brief History of Computer Displays," one of my most recent slideshow works and the latest in my "Evolution" series. The piece traces computer display devices from blinking lights, to paper tape, to terminals, and beyond.
Special thanks to Steve Wozniak and Lee Felsenstein for help with a certain segment of computer display history — the era when computers shifted from serial terminals IO to directly outputting a video signal. Our conversations were exciting stuff that I'll explore further in future articles.
I hope you enjoy it. When you're done reading, come back over and tell us what your first computer display/monitor was like.
—
Previous entries in Benj's "Evolution of…" series:
The Evolution of Video Game Media
The Evolution of Removable Storage
The Evolution of The Cell Phone