November 16th, 2010 by
Benj Edwards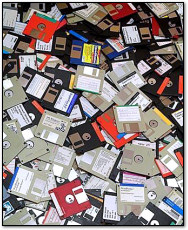 Here's a question for my intrepid readers: Do you collect software? Operating systems, applications, computer games, or even image or sound files? If so, do you have a focus for your collection? How do you store it?
I've been collecting software for about 17 years. Much of it was once locked into deteriorating floppy disk formats, but luckily I've been able to find working disk images of those particular apps and games (say, for the Atari 800 or Apple II) created by others, so not much is at risk of being lost there.
Everything else — all my personal floppy disks, ZIP disks, CDs, and hard drives for Macs and PCs — I long ago backed up to a central file server that uses a RAID 5 array and offsite backup for extra protection. In that collection are the contents of over 30 different PC hard drives imaged and preserved "in state" for research purposes. I keep all the files in place as they were when those drives were in use, because you really never know what you'll need in the future when it comes to historical research. Many of those files have come in handy already.
I should note that if you have anything backed up on CD-R, get it off now, because I've already found CD-Rs from as recent as 2000 that I can't read anymore. They really are a terrible archival format. The best hope for long-term software preservation (in my opinion) is to maintain a live RAID array of hard drives that you maintain and update over time.
So how do you do it, and what do you collect? I'm interested to hear from you in the comments below.