February 23rd, 2006 by
Benj Edwards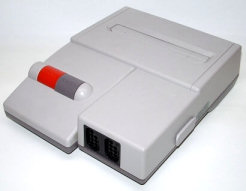 David the postman woke me up at the crack of dawn this morning (…11:00 AM…) with a special package delivery, shipped express from Japan. I quickly signed for it and dove into the box with earnest. Out popped a like-new condition AV Family Computer (Famicom) console with two "dog bone" control pads, one A/V cable, an AC Adapter, and 18 games! Yes; I was quite excited. But of course, people don't just randomly ship like-new AV Famicoms to your doorstep. Nope — it takes some form of coercion (hopefully peaceful, like money) to get that to happen. I'll admit: I bought it off of eBay, and perhaps paid a tad too much for it, but I am very happy with my purchase. During the whole Generation NEX fiasco, many VC&G readers were talking about how much the AV Famicom rocks. And after playing with it some today, I would have to second that emotion.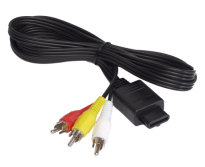 What rocks about it? Well, call me a weirdo, but I really love the fact that it has a standard Nintendo multi-AV socket on the back (hence the "AV" in "AV Famicom"). For your info, the cable that plugs into this type of socket is pictured on the left. There's no RF-out here (the top-loading American NES has RF-out only) — just pure composite goodness. Yeah; I am quite aware (and happy) that the original NES has RCA audio and video outputs, but the standard AV jack on the AV Famicom means that I can have all four generations of Nintendo console units (Famicom, SNES, N64, and GC) sitting next to each other, and if I get tired of playing one console, I can simply unplug the AV cable from the unit and plug it into the back of another. Also, there's the obvious reason that the video quality from a composite video output is superior to RF any day of the week. So that's the video part. What else? Well, it plays Famicom games, and it plays them very well. It came with an AC adapter that works in US power outlets. And it has…get this…detachable controllers.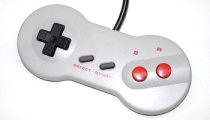 The original Famicom had built-in controllers. What's more, the AV Famicom uses US NES-style controller ports, so you can use all your favorite NES control pads with the unit. I'm not sure if the light gun would work in port #2 though: the original Famicom's light gun plugged into a special DB-15 accessory port on the front of the unit, and the AV Famicom replicates this port on the right-hand side, so I'm not sure if the AV's port #2 wired to work properly with a US light gun. But I can't talk about AV Famicom controller ports without mentioning the SNES pad-influenced "dog bone" controllers, which people either really love or…don't really care. I'm a big fan of the original rectangular NES pads and don't find them uncomfortable, so the dog bones tend to say in the closet. However, the AV Famicom iteself will be spared from the closet and instead will hold a special place in my entertainment center for years to come. If you have the cash and are serious about playing Famicom games on the real hardware, there's no doubt about it: you should get an AV Famicom.