March 28th, 2011 by
Benj Edwards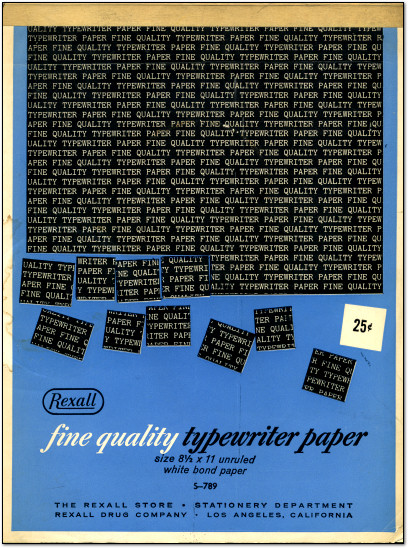 Rexall Fine Quality Typewriter Paper
I found this pad of 8.5″ x 11″ Rexall typewriter paper in a pile of my parents' old documents. It immediately struck me as interesting because typewriter paper is not something you'd typically find on sale in a drug store these days.
Why? Well, computers, my boy. They obliterated the typewriter market decisively in the early 1990s. People found the ease of word processing on an electronic screen (especially in the post-Macintosh GUI era) much more flexible, powerful, and convenient than the comparatively cumbersome practice of using a typewriter.
Some years ago I recall reading that certain old-school writers still swear by typewriters for clarity of thought and purity of purpose. There's something to that philosophy, as the modern multi-tasking operating systems we have today are extremely distracting for serious work. Maybe computer single-tasking should come back in vogue.
[ Rexall Fine Quality Typewriter Paper pad (S-789) cover, circa 1960s ]
Discussion Topic of the Week: When's the last time you used a typewriter? Tell us about the occasion.