August 15th, 2011 by
Benj Edwards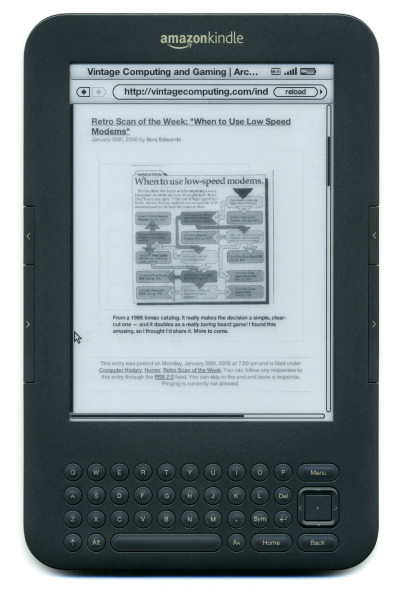 Bet you've never scanned a website before.
This week's Retro Scan happens to be the 300th entry of this series that I've posted since 2006. We already celebrated the 5th anniversary of RSTOW back in January, so this isn't quite as exciting of a milestone.
Still, I thought I'd take this opportunity to do something once thought impossible: I scanned the Vintage Computing and Gaming website. More specifically, I scanned an Amazon Kindle showing the very first Retro Scan of the Week post from back in January 2006.
Did I scan something retro? Not really, but I have the feeling that this Kindle, with its monochrome e-paper screen, will seem very quaint in just a few years. The 2006 RSOTW post itself is already over five years old, which feels like an eternity in Internet time.
Will there be 300 more Retro Scans? Only time will tell.
[ From Vintage Computing and Gaming, January 2006 ]
Discussion Topic of the Week: Do you think e-readers will permanently replace paper books? If so, how soon?