October 3rd, 2011 by
Benj Edwards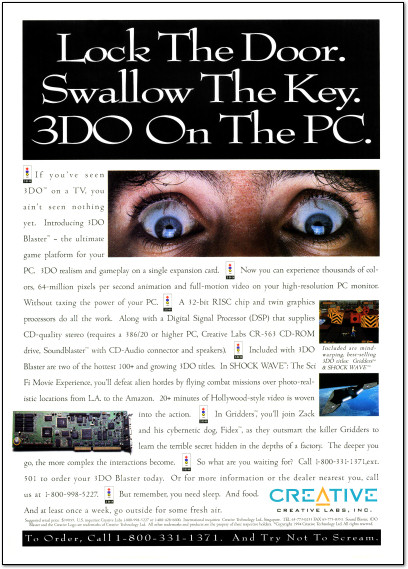 "Introducing 3DO Blaster — the ultimate game platform for your PC."
Of all the 3DO Interactive Multiplayer devices made in the 1990s, the Creative Labs 3DO Blaster was perhaps the most unique. Retailing for $399.95 in 1994, the full set contained an ISA expansion card for an IBM-PC Compatible computer, a special CD-ROM drive, a game pad, and a couple games.
With the 3DO Blaster, 3DO software didn't run on the PC's computing hardware itself (as would be the case with a software emulator). Instead, the Blaster's expansion board contained a nearly complete set of 3DO console circuitry that merely used its PC host for power, video output, and as an optical media reader with the included CD-ROM drive. To get sound, you had to have a Creative Labs Sound Blaster card already in your PC.
Once installed in your PC, you could use the 3DO blaster to play 3DO games loaded from official 3DO game CDs that displayed on your computer's monitor. 3DO Blaster supported a windowed graphics mode in Windows 3.1 and full-screen in MS-DOS.
The 3DO Blaster did not fare well in the marketplace due to its high price, impractical nature, and the fact that the 3DO platform never really took off. If you happen to own one of these, treat it kindly, as it is most assuredly a rare gaming artifact from the early 1990s.
[ From GamePro, November 1994, p.173 ]
Discussion Topic of the Week: Have you ever owned a 3DO console? What are your favorite games for the platform?