October 23rd, 2011 by
Benj Edwards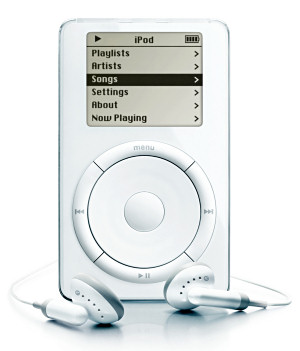 Ten years ago today, Steve Jobs introduced the first iPod to the world. Many people didn't know what to think. It would take a little time for idea of the iPod to sink in, so to speak, but once it did, it did so in a very big way.
I first encountered the iPod shortly after its 2001 launch at a local Circuit City. Its simple white scroll wheel stared at me from across the room like a giant eye that had just opened for the first time. Yep, it got my attention. A ring-shaped kiosk in the middle of the room held iPods projected upwards, each player perched on a security rod, restricted, but available for public tinkering.
I walked up to it and touched it, ran my fingers across the front and spun the wheel. It was almost insultingly intuitive to a gadget freak like myself. It worked, and it was obvious that everyone would know how to use it almost immediately after picking it up.
Before playing with the iPod, I was skeptical of the device — like just about everyone else. But after touching it, I knew that the future of music consumption wore an Apple logo. By God, I wanted one. Bad.
Three Articles about iPod
So here we are, ten years later. The iPod unquestionably shook up the world. How should we mark the anniversary? Well, to start, I have written three pieces about the iPod for this exact occasion. I'll go through them below.
The Birth of the iPod – In this piece over at Macworld, I take a look at the origins of the first iPod — how it was created, by whom, and why. I owe great thanks to Tony Fadell for sharing his time to talk about the iPod's creation, and to Steven Levy and Leander Kaheney, whose previous works on the iPod also provided invaluable sources for my article.

Despite those sources, this is not some iPod creation rehash. In fact, it puts together a number of disparate information sources for the first time. And thanks to my interview with Fadell, you'll definitely learn some new tidbits about the birth of the iPod.

iPod Oddities – In which I continue my long-running Technologizer-hosted Oddities series by examining weird accessories, art, and history related to the iPod. Fun stuff, as always. Don't miss the iPod ballistics calculator.
The iPod as an Iconic Cultural Force – Also at Macworld, this piece openly muses about how the iPod changed our culture, the music industry, and the world around us.
I wish I could say that I wrote more (ha), but you'll have to be satisfied with that — oh, and all the other iPod tributes you'll find on the web in the next few days.
Happy birthday, iPod.
—
Discussion Topic of the Anniversary: What did you think about the iPod when you first heard about it? Did your opinion change after you actually used it?