October 24th, 2011 by
Benj Edwards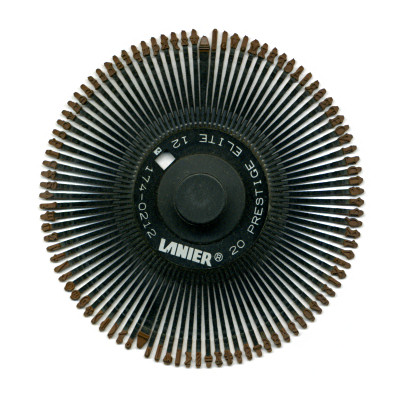 Text in bloom.
Here's an interesting piece of obsolete technology — a plastic Lanier daisy wheel for a daisy wheel printer. Its actual size is about three inches in diameter.
There was a time when having a "letter quality" impact printer meant that the machine printed text using pre-formed, typewriter-like type elements. Some printers held these elements in the shape of a cylinder or a sphere, but in the case of the daisy wheel printer, the character forms projected from a central wheel in a shape that resembled a daisy flower.
Daisy wheel printers produced text by rotating the wheel to the proper character spoke and striking the back of it against an ink ribbon, which would leave a mark on the underlying paper.
Each daisy wheel rendered a different font (or type size), and thus fonts could be changed as easily as replacing one wheel with another. In this case, you're looking at a wheel for the font called "Prestige Elite 12," but printer makers sold dozens of other font wheels, such as those for Courier 10 or Cubic 15.
The daisy wheel method reproduced fonts using a dramatically different technique than, say, dot-matrix printers, which used a single matrix of metal pins to form various characters.
Laser and inkjet printers, which produce much less noise and use software-based fonts, made impact printers thoroughly obsolete for every-day PC use by the late 1980s (though stragglers used dot-matrix printers well into the mid-1990s due to lower prices). Even so, impact printers still reign supreme in specialized applications that require physical force, such as document reproduction via carbon copy paper.
[ Scan of Lanier daisy wheel, circa 1978 ]
Discussion Topic of the Week: Have you ever used a daisy wheel printer? Tell us about it.