February 13th, 2012 by
Benj Edwards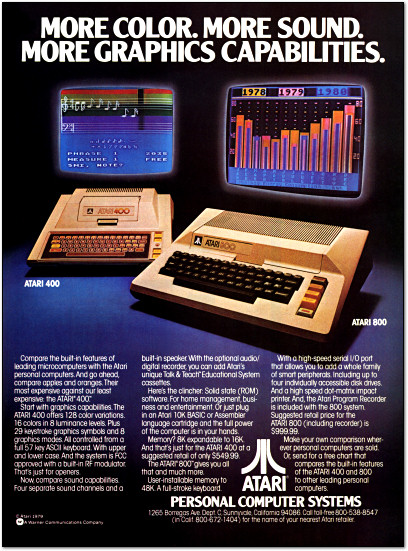 More color. More sound. More overwrought plastic and aluminum enclosures.
If you haven't noticed by now, I love the Atari 800. It was my first computer platform. And the Atari 400, interestingly enough, was the first computer I ever "owned" — my father let me have a cast off 400 because my brother claimed the 800 as his domain. I couldn't do much but play Galaxian on it — hooked up to a fuzzy 10″ black and white TV — but I cherished it anyway.
So I've written about Atari's 8-bit computers a lot. I took an 800 apart for PC World a few years ago, and the platform has been the subject of numerous Retro Scans of the Week. But I just realized that I had never posted a scan of an original Atari 400 or Atari 800 advertisement. So here you go. This is an early ad that hails from the launch of the system in November 1979.
I thought an Atari scan would be appropriate since I am celebrating the 40th anniversary of Atari a little early.
[ From BYTE Magazine, November 1979, p.15 ]
Discussion Topic of the Week: Have you ever used an Atari 8-bit computer for anything other than games? Tell us about it.