March 12th, 2012 by
Benj Edwards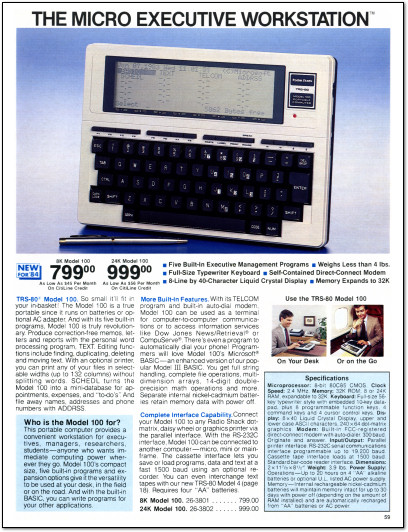 It's the MICRO EXECUTIVE WORKSTATION, people!
iPad, schmyepad. In the 1980s, we had hair on our chests, far fewer seat belts, and we walked backwards downhill halfway from school every day in the monsoon season. AND WE LIKED IT. We also used the TRS-80 Model 100 — a sleek 3.9-pound, 2-inch thick machine that could run 20 hours on a single set of four AA batteries — for all of our mobile computing needs.
Imagine 8 kilobytes of RAM. Imagine a full travel keyboard and a 240×64 display that could fit in your lap. Imagine downloading stock prices at $12/hour from CompuServe at 300 bits per second over two acoustic couplers. It's not a fantasy — it's life in 1983.
Below, I present for your perusal a stat-by-stat comparison between the mighty Radio Shack wonder and today's iPad, then I ask you: which is truly superior?
TRS-80 Model 100 vs. new iPad (2012)
TRS-80 Model 100
The new iPad
Year Introduced
1983
2012
Price
(2012 Dollars)
$2,501.05
$499.00
Price
(1983 Dollars)
$1099.00
$219.27
CPU Type
Intel 80C85
Apple A5X (Cortex-A9)
CPU Speed
(MHz x cores)
2.4
2,000
(unconfirmed)
RAM
(kilobytes)
8
1,000,000
(unconfirmed)
User Storage
(kilobytes)
5.062
16,000,000
Display Resolution
240 x 64 pixels
2048 x 1536 pixels
Networking Speed
(bits/second)
300
(internal modem)
300,000,000
(802.11n Wi-Fi)
Battery Life
20 hours
10 hours
Dimensions
11.875 x 8.5 x 2 inches
9.5 x 7.31 x 0.37 inches
Weight
3.9 pounds
1.44 pounds
Number of Apps
5
20
(+ 200,000 online)
Operating System
Custom / Microsoft BASIC v1.1
iOS 5.1
Notable Features
56-key keyboard, RS-232 port, parallel port, bar code reader, 300 baud modem
Capacitive touch screen, Retina display, 5MP iSight camera, FaceTime camera, Wi-Fi adapter
Conclusion
Just as I suspected. The iPad wins. Oh well.
[ From Radio Shack 1984 TRS-80 Catalog (RSC-10), p.59 ]
Discussion Topic of the Week: Can you think of any scenarios where a Model 100 might be more useful than an iPad?