August 6th, 2012 by
Benj Edwards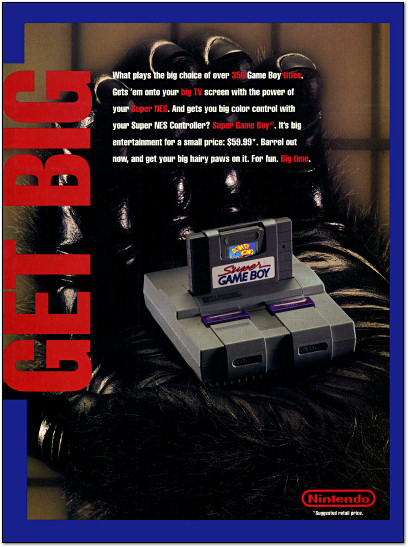 Gaming fun in the palm of your gigantic hand.
For me personally, the Super Game Boy (1994) was one of the most exciting video game peripherals ever released. It liberated Game Boy games from that unit's blurry, dark screen, opening up a whole new world of gaming to those who preferred gaming on a TV set.
The fact that it also included a remake / extension of Donkey Kong, one of my favorite games of olde, made it a must-buy. I still remember the day I got it — my family drove to a local shopping mall, and I decided to stay in the car playing Donkey Kong on the Game Boy (even though not in color) instead of going inside. I haven't been that excited about a new game in a long time.
(By the way, I first talked about the Super Game Boy in an early Retro Scan way back in March 2006.)
[ From Nintendo Power, August 1994, back cover ]
Discussion Topic of the Week: When did you first get a Super Game Boy? Did you have any Super Game Boy enhanced games for it?