August 27th, 2012 by
Benj Edwards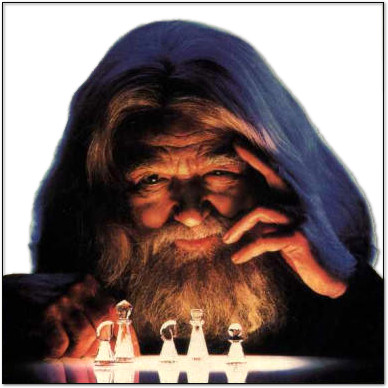 The Chessmaster (1916-1997)
This iconic wizened head loomed large over my childhood. It is the image of the Chessmaster, a fictional chess opponent who stars in a software series of the same name.
That series began way back in 1986 with The Chessmaster 2000, a comprehensive chess simulator that first appeared on 8-bit computer platforms like the Apple II, Atari 800, and Commodore 64. Published by The Software Toolworks, it spawned a series of at least 16 titles that quickly became the best-selling chess software franchise of all time.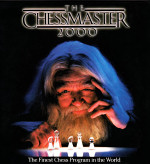 My older brother always loved chess games, so I saw that aged face — a perennial feature of Chessmaster box art — many times throughout the 1980s and 1990s. I always wondered: who was the Chessmaster, really? Who was the real man behind that wise old face? Was he really that old or was he just wearing a wig?
Fast forward to 2006. Thinking I'd write about it on this blog, I emailed Ubisoft (the current publisher of The Chessmaster series) and asked them if they knew who portrayed the Chessmaster. Of course, they had no idea — institutional memory is sorely lacking in most tech companies, and it's even worse in the software industry. Today I know better than to even bother asking.
Instead of tracking down everyone who worked on Chessmaster 2000 and interrogating them (although I considered it), I figured I'd bide my time and put the somewhat trivial issue on the back burner. The Internet has a way of consuming information and making it available to everyone online, so I thought the answer would pop up one day.
It did.
The Chessmaster Revealed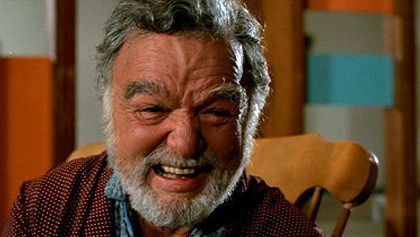 Will Hare, the face and hands of the Chessmaster
A few years later, I decided to resume my quest with a quick Google search about the Chessmaster. Sure enough, my patience rewarded me with an answer to my question. There, buried among the links, lay an IMDB biography that revealed the Chessmaster's true identity.
The man who portrayed the Chessmaster in that iconic photograph was an actor named Will Hare, who appeared in over 50 film and TV roles between 1948 and 1997.
Judging from his IMDB entry, it seems that Hare mostly played minor, supporting roles — although sometimes they were in big movies. For example, he portrayed Old Man Peabody in the 1985 blockbuster film Back to the Future. And he did it not too long before he portrayed the elderly Chessmaster.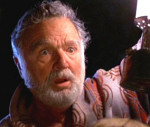 In fact, Hare really had the "old man" role cornered around that time: the photo above is a still from Silent Night, Deadly Night (1984), where he played "Grandpa." He also portrayed characters named "Old Man" in Tales of the Unexpected (1984) and The Aviator (1985).
Immediately after discovering the man behind the Chessmaster, I wondered if he was still alive. Could I call him up and ask him what it was like to be a chess symbol?
No, I discovered. Will Hare suffered a heart attack in 1997 while rehearsing a role at The Actor's Studio in New York. He died on stage at the age of 81.
According to his bio, he would have been about 70 years old at the time of the Chessmaster photo session. So he really was old enough to be the Chessmaster. That might not be a wig.
Unsolved Mysteries
The sudden and unfortunate death of Will Hare 15 years ago leaves many unimportant and non-pressing questions unanswered.
Who took the Chessmaster photo? (Are there any outtakes where he's playing checkers?) What were his contract terms? How much was he paid? Did he frame a copy of the box art and keep it on his wall? Did he know that his image would live forever in the distinguished hall of haunting computer game memories?
If anyone out there knows the answers to these questions, contact Robert Stack please leave a comment below. Heck, even if you're just a fan of The Chessmaster series, I'd love to hear from you. Together, we will complete the true story of the Chessmaster.
Rest in peace, Will Hare…or should I call you The Chessmaster?
—


See Also: Ask the Chessmaster (2011)
See Also: VC&G's Halloween Video Game Costume Ideas (2008)