January 11th, 2013 by
Benj Edwards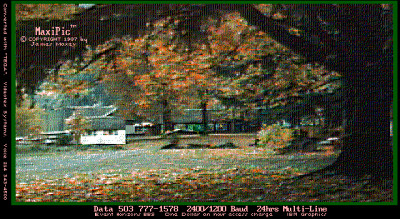 Click to see other views of this image: [ Original Size ] [ 2X Zoom ]
From 1983 to 1996, James "Jim" Maxey operated a very successful Oregon-based BBS called Event Horizons. Through that board's file section, Maxey made available thousands of GIF images in many categories, from landscapes to pornography, that he had created using a video digitizer board and conversion software called T-EGA.
Bob Talmadge wrote an excellent profile of Jim Maxey's BBS years for his site BBSDays.com. I recommend reading it if you're interested in learning more about Maxey's BBS. Also, Jack Rickard of BoardWatch magazine mentioned Maxey's early 1990s image-related BBS activities in an article he wrote for Wired issue 1.04 in 1993.
The early and pioneering nature of Maxey's color graphics files for IBM PC computers ensured that his digital pictures, which he called "MaxiPics," spread far and wide to other BBSes at the time. This is one such picture, and it depicts a house and yard in autumn. The 640 x 350 EGA format file dates from 1987 and was likely captured from a video source — more on that in a moment.
The Story of T-EGA
Most, if not all, of Maxey's "MaxiPic" GIF images credit something called "TEGA" by Videotex Systems. There's very little information about TEGA to be found on the Internet, so I tracked down its author, Bob Gillman of Videotex Systems. (And yes, Videotex Systems still exists, despite it being named after obsolete 1970s interactive television technology.)
Turns out it's called "T-EGA," and it was a 1985 commercial graphics conversion program that worked with TrueVision video capture boards on the IBM PC platform. I'll let this detail-rich email from Bob Gillman tell the story:
[T-EGA] was my idea as to how to get "real" photo images on to the PC.

I was introduced to one of the original photo capture boards, the ICB (Image Capture Board), from AT&T labs which later became Truevision. At the time, Videotex [Systems] was the world leader in Prestel based videotex software for the PC; videotex was the transmission of text and graphics over modems. Prestel was the English videotex standard, and was a standard in many other countries like Denmark, Italy, Netherlands, Australia, etc.

AT&T was developing a NAPLPs videotex standard for the US. They used the ICB board for the NAPLPs standard, and that's how I found out about it.

I saw the opportunity to use the board to create photo-realistic images for the PC, and that is how T-EGA was born. The "T" was for Truevision since we used a Truevision board (ICB, then later Targa), and the EGA was the output format – our highest at the time. Later, we also did VGA.

The ICB and Targa board were IBM PC compatible boards (ISA) that had a composite video input and output (like a VCR). You hooked up a video camera, and did a still image grab. You could save the image in the Targa format (TGA). T-EGA would convert either the board memory or TGA file to a file (GIF, TIF, etc.) that would display on a regular PC screen.

Later, we renamed T-EGA to ChromaTools.
Gillman emailed me some scanned brochures for T-EGA that you can download here in PDF format. He also sent me brochures for T-BASE (PDF) and ChromaTools (PDF), which were related image processing software packages.
It's amusing today, but the role of T-EGA was simply to convert TGA format image files to GIF or PCX format while possibly resizing and converting the image's color depth. Those features are taken for granted in our Photoshop-rich world, but T-EGA retailed for $199 in the late 1980s.
If we're to follow logic, it looks like Maxey owned a Truevision video capture board and used it in conjunction with a video camera and likely a VCR to capture this autumn image to a PC. Then he used T-EGA to convert the resulting image into a GIF file, plopped it on his BBS, and here it is today, 26 years later.
It's worth nothing that digitization via video capture was one of the most common ways of digitizing bitmapped images in the early years of the personal computer. It was a far more economical technology at a time when flatbed scanners cost a pretty penny (check out this Retro Scan that features a >$9,600 flatbed scanner from 1989).
I asked Gillman about Maxey and if he knew of his BBS-related imagery activities. He replied with a funny story.
Jim Maxey was one of our fans, but I did not know him personally. He loved the T-EGA program. He had a BBS and he converted images, and sold them. At one point, he asked us if we would mind him putting our company name on the images, and we thought, "Why not," it's some free advertising.

Well, a few months later and for years afterwards, we started getting these weird calls, like "I want to buy some of those images, you know, those dirty images." So apparently, he was creating more than just pretty pictures of landscapes, and so on.
The maxim "sex sells" applied in the BBS world as much as it did in any other, and Maxey counted on that to fuel the success of his commercial BBS. But that's a subject for another day. For now, have fun looking at pretty leaves.
(By the way, Jim Maxey is on Facebook these days. I have not contacted him, but I would not be surprised if he pops up one day and tells his story in the comments. Here's hoping.)
Retro GIF of the Week Fact Box
Source File Name:
scenic1.gif
Source File Date:
June 20, 1988
Source File Format:
GIF – 87a (non-interlaced)
Dimensions:
640 x 350 pixels (EGA)
Color Depth:
4-bit (16 color)
Origin Platform:
IBM PC
Derived From:
Video source
Creation Date:
1987
Artist:
James Maxey
If you know more about the origin of this image, please leave a comment.