January 21st, 2013 by
Benj Edwards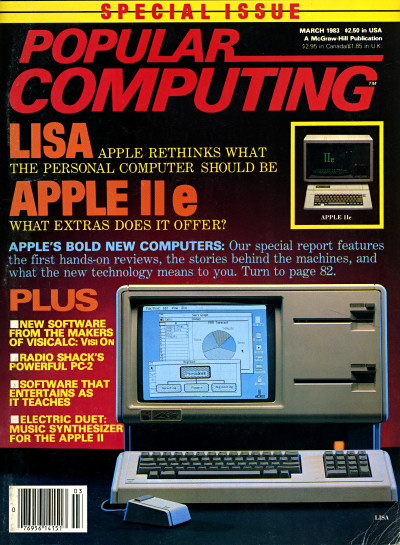 APPLE'S BOLD NEW COMPUTERS IN ALL-CAPS
Thirty years ago last Saturday (January 19th, 1983), Apple announced two new computers: the Apple Lisa and the Apple IIe.
Ultimately, the Apple Lisa met an early end, leaving behind technology that shaped the entire industry. The Apple IIe remained a reliable breadwinner during uncertain times in the early life of the Macintosh and remained the flagship member of Apple's popular 8-bit computer line until it ended in 1993.
Here's the cover of the March 1983 issue of Popular Computing which featured Apple's two new machines. It has always been one of my favorite vintage computer magazine covers.
By the way, I recently wrote an article about this anniversary for Macworld in case you're interested.
[ From Popular Computing, March 1983, cover ]
Discussion Topic of the Week: Have you ever used an Apple Lisa? What did you think about it?