February 15th, 2013 by
Benj Edwards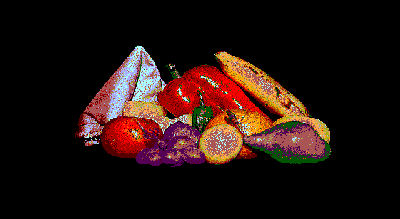 Click to see other views of this image: [ Original Size ] [ 2X Zoom ] [ 4:3 Ratio ]
Have you ever seen an edible still life rendered in 16-color EGA?
It appears that this image, which shows fruits and vegetables, cheese, and a napkin or folded tablecloth, originated as either a video capture or a scan of a photograph that was then digitally cleaned up to isolate the centerpiece in absolute blackness.
I have no clue as to its ultimate origin, but I found that it gained its June 7, 1988 file date from either a BBS file section or a CD-ROM collection, as I've discovered a number of other GIFs on cd.textfiles.com with the same file date. (By the way, I cannot overstate the historical importance of that collection. It's brilliant.)
I haven't mentioned this before, but I've started adding a 4:3 aspect ratio view in the image links above when necessary. This image has dimensions of 640×350 (a 4:2.1875 ratio), but when it was viewed on monitors of the day, it would have been stretched into a roughly 4:3 aspect ratio, making the pixels appear non-square. When viewed today on our precisely square-pixeled displays, the original non-4:3 image appears vertically compressed. So I have manually corrected it to 640×480 in the 4:3 view, which should approximate the view you'd see on a vintage computer monitor at the time.
[ Wondering what a GIF is? Read the introduction to this column. ]
Retro GIF of the Week Fact Box
Source File Name:
FRUIT1.GIF
Oldest Known File Date:
June 7, 1988

Source File Format:
GIF – 87a (non-interlaced)
Dimensions:
640 x 350 pixels (EGA)
Color Depth:
4-bit (16 color)
Color Resolution
(palette size):
6-bit (64 colors)
Origin Platform:
IBM PC
Derived From:
Unknown
Creation Date:
Circa 1987 – 1988
Artist:
Unknown
If you know more about the origin of this image, please leave a comment.