February 11th, 2013 by
Benj Edwards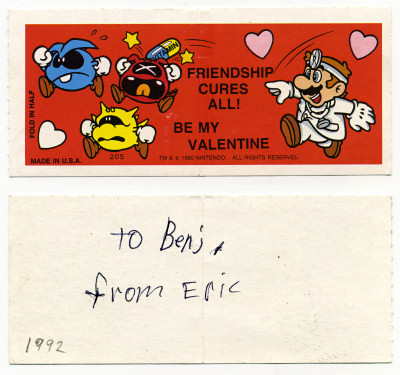 Friendship cures all
Valentine's Day is this week, and boy do I have a neat retro valentine for you. When I was growing up in North Carolina, it was traditional for kids in elementary school to give valentines to every one of their classmates regardless of gender. I'm not sure how it is these days (it may be the same), but I thought I'd explain it for folks who may hail from overseas.
One year, a friend of mine named Eric gave me a Dr. Mario-themed valentine, which you see scanned above (front side on top, rear side on bottom). Amid a scene of Dr. Mario himself throwing a vitamin pill (don't do drugs, kids) at a group of viruses, we see the words "Friendship cures all! Be my valentine."
The valentine itself was torn off from a larger sheet of valentines, as evidenced by the perforated tear on the left side of the paper and the "fold in half" inscription near it. I've put it away somewhere since I scanned it last year, but I recall that it measures about four inches on its longest dimension.
The printed image bears a copyright and trademark date of 1990, which coincides with the publication of Dr. Mario for the NES. That doesn't mean the valentine was printed in that year. In fact, a much younger Benj — ever the historian — wrote the year he received the valentine: 1992. I was in fifth grade at the time.
Good 'ole Eric never knew his compulsory elementary school valentine to me would one day be famous on the Internet. So 21 years after I received it, let his vintage valentine be my gift to you, dear readers, this Valentine's Day.
[ From Dr. Mario Valentine, circa 1992 ]
Discussion Topic of the Week: Did you trade valentines in school? Were any of them video game-related?