Monday, December 11th, 2017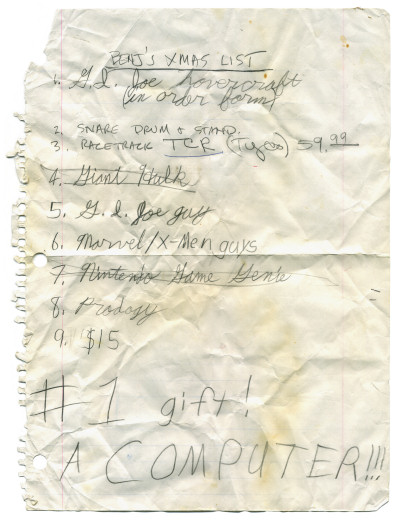 Seems like I wanted a computer
My father passed away in 2013, and since then, I have been slowly going through his possessions, including his papers, to take stock of what's there and put things in order.
Last year, in the back of a tall metal file cabinet, I found a manila folder labelled "Christmas Lists." Amazingly, it contained many of my handwritten childhood Christmas lists, addressed to both Santa and my parents. It was very touching to find. I had no idea my father had saved them.
Among these papers, I found this gem from 1992 (I pinpointed the date easily because I remember which year I wanted to get a Prodigy client set). I was 11 years old. That was also the first year I started my BBS.
Unlike my richly illustrated Christmas list from 1989, this one is all text. Among items like 'G.I. Joe guy,' a giant Hulk figure, and a snare drum, we find gems such as 'Nintendo Game Genie,' the aforementioned 'Prodogy' (sic), and "#1 gift! A COMPUTER!!!"
(I'm pretty sure the $15 was a joke.)
At the time, I was using a dreadfully slow monochrome IBM PS/2 Model 25 (with an 8086 CPU) to run my new BBS (that my dad had bought new around 1987), so I'm pretty sure that was the main reason I wanted a computer.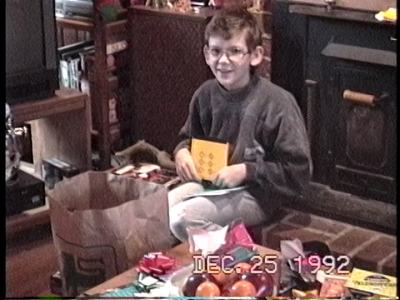 I didn't get a new computer that Christmas. I think my dad bought me my first non-hand-me-down PC around 1994. But I did get a Prodigy connection kit, and you can read more about that in this classic post. And of course, best of all, I was surrounded by my loving, supportive family in a stable home. It was a great Christmas.
I was a lucky kid, and I am very grateful that my family encouraged me to explore what I loved. I plan to do that for my kids as well.
I hope all of you out there have a very Merry Christmas.
[ From Benj's Christmas List (Vol. 2, Chapter I), 1992 ]
Discussion Topic: Have you ever received a computer for Christmas? Tell us about the first one.