February 2nd, 2015 by
Benj Edwards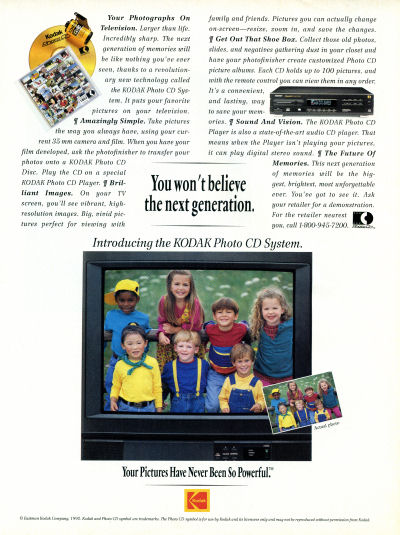 Because the best place to look at photos has always been your TV set
In September 1990, Kodak announced a brand new system for storing and viewing photographs: Photo CD. At a time when Compact Discs represented the vanguard of consumer electronics technology, Kodak capitalized on the excitement by blending digitized photos with a custom CD format.
Kodak designed that format for viewing through special a Kodak CD Player device (think DVD player for still photos) that hooked to a standard TV set. Using such a player, one could view the digitized photos via a virtual slideshow.
It would not be until August 1992 until Kodak finally launched the system, releasing its first Photo CD player and beginning production of Photo CD discs for customers.
With a base image resolution of 512 x 768, Photo CD was far from an archival medium. It tried to offer convenience, but instead ended up adding needless cost and encumbrance to the photo viewing process. In an era before most people were equipped to view, edit, or print digital photos from a PC, the fact that the photos came in an electronic format did not add anything notable to the experience. Predictably, adoption of the Photo CD system never gained much steam. (Wikipedia's article on Photo CD has some pretty good additional analysis of why Photo CD never took off.)
I personally remember encountering a Kodak Photo CD player in either a photography store or a Radio Shack as a kid. I thought it was amazing — your own photos on a TV set! But my dad, an experienced photographer, never bought into the system.
P.S. For more CD history, check out my Compact Disc 30th Anniversary article that I wrote back in 2012.
[ From Scientific American – February 1993, p.17 ]
Discussion Topic of the Week: Did you ever use the Kodak Photo CD service or own a Photo CD player?