September 23rd, 2013 by
Benj Edwards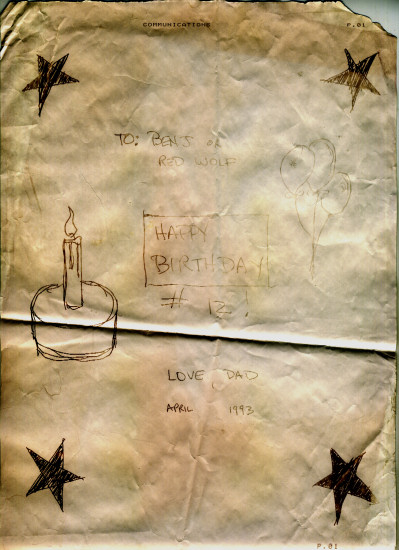 Benj's Birthday Fax
In 1993, I was heavily into BBSes and all things telecommunications, so my dad, an electronics engineer, lent me his old fax machine to set up in my bedroom. I hooked it to the second phone line in the house (used for my BBS at the time) so I could send experimental faxes to it from my dad's office.
On my 12th birthday, just over 20 years ago, this particular fax came in as a surprise. It was a happy birthday note written by my dad. Receiving my very own fax (probably my first one) delighted me at the time, and I tucked it away for safe keeping. It was one of the most thoughtful personal notes my dad ever wrote to me.
Earlier this year, just after my dad was diagnosed with pancreatic cancer, I re-discovered the fax in a box of childhood mementos. Being printed on thermal paper, it's now heavily faded, but the message of love, acceptance, and encouragement it conveys is still strong. It represents some of the best things about my dad.
He is the reason I'm here — both in a literal, existential sense, and also as the enabler of my passion for technology. Growing up, if I wanted to experiment with something, he made it happen. If I was curious, he was curious with me. We shared thousands of tech adventures together, and that made him an awesome dad.
Yesterday morning, my father passed away after a 9 month bout with that terrible disease. There will be no more tech adventures between us, and that breaks my heart. But there's a new generation coming up, and I will do my best to continue his legacy of encouragement and gentle guidance with my own kids, who already possess a passion for technical and mechanical things like their grandpa.
Thanks, dad. For everything.