March 1st, 2013 by
Benj Edwards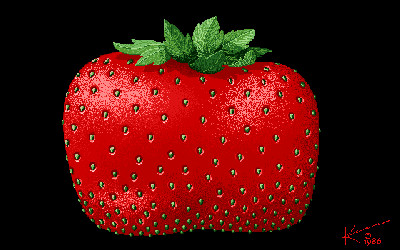 Click to see other views of this image: [ Original Size ] [ 2X Zoom ] [ 4:3 Ratio ]
It's hard to believe that an artist created this delectable representation of a strawberry using only tiny digital squares in a mere 16 different shades. Whomever made it did so in 1986 on a Commodore Amiga: the signature date, image dimensions, color depth, and color resolution all point to those facts.
Obviously, due to its age, this image did not originate as a GIF. CompuServe introduced the first GIF standard in 1987.
I know of three other works by this same artist (all signed with the same signature), and they're all amazing. I'll probably post them in the future, but for reference, those other works depict a stylized lion head, a pair of feminine human lips, and a "Liquid Light" logo.
But I can't quite read the signature. It looks like it starts with a "K." Can anybody out there help me find this artists' name?
[ Update: 03/06/2013 – Gino in the comments identified this image as the work of Kara Blohm, a well-known Amiga font and graphics artist who is now sadly deceased. Thanks, Gino! ]
[ Wondering what a GIF is? Read the introduction to this column. ]
Retro GIF of the Week Fact Box
Source File Name:
STRAWBRY.GIF
Oldest Known File Date:
January 21, 1993 – 2:43:32 AM Eastern

Source File Format:
GIF – 87a (non-interlaced)
Dimensions:
640 x 400 pixels
Color Depth:
4-bit (16 color)
Color Resolution
(palette size):
12-bit (4096 colors)
Origin Platform:
Amiga
Derived From:
Unknown
Creation Date:
1986
Artist:
Kara Blohm
If you know more about the origin of this image, please leave a comment.