March 8th, 2013 by
Benj Edwards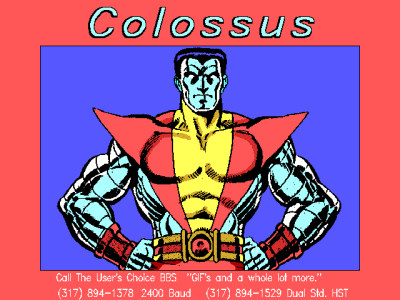 Click to see other views of this image: [ Original Size ] [ 2X Zoom ]
In ye olden days, BBS sysops often tagged image files that came within their possession with makeshift ads for their BBSes, as can be seen here on this image of Marvel's Colossus. The BBS in this case is "The Users's Choice BBS," which sysop Martin Scolero ran in Indianapolis, Indiana between 1990 and 1996. (That info is courtesy a historical BBS list created by Jason Scott.)
I tracked down Martin Scolero a few weeks ago and asked him via email about his BBS and the practice of "branding" GIFs with BBS ads. No response so far.
The image itself is slightly curious. It uses a 16-color EGA palette and 6-bit palette depth, but the image itself is at a VGA resolution, 640×480. I'm guessing that Scolero used some sort of hybrid third-party PC-compatible video card to create the image. I'm guessing he scanned (or took someone else's scan of) a black and white image of Colossus and colorized it in a paint program.
[ Wondering what a GIF is? Read the introduction to this column. ]
Retro GIF of the Week Fact Box
Source File Name:
COLUSS2.GIF
Oldest Known File Date:
August 6, 1992 – 4:53:08 AM Eastern

Source File Format:
GIF – 87a (non-interlaced)
Dimensions:
640 x 480 pixels
Color Depth:
4-bit (16 color)
Color Resolution
(palette size):
6-bit (64 colors)
Origin Platform:
IBM PC
Derived From:
Unknown
Creation Date:
circa 1990-1992
Artist:
Possibly Martin Scolero
If you know more about the origin of this image, please leave a comment.