Thursday, July 12th, 2007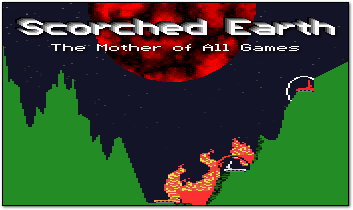 Sixteen years after its humble emergence in the golden age of the BBS, Wendell Hicken's timeless 1991 artillery simulation remains a hallmark in shareware history. Scorched Earth stands as nothing less than a masterpiece in the field of computer games.
With its numerous gameplay settings, variable computer AI, and an impressive variety of entertaining power-ups, Scorched Earth possesses nearly infinite replay value. It's also one of the greatest party games ever devised: up to ten players can take turns plotting the explosive demise of their closest friends at the hands of a Nuke, MIRV, or Death's Head over as many as 1000 rounds. As a testament to the pure strategy of the game, veterans skilled in the ways of Scorch know the best ways to dispatch foes — or merely survive as others duke it out — under any circumstance, rain or shine, springy walls or rubber.




Many of today's game designers seem envious of Scorch's ability to consistently entertain for over a decade. Fans of Hicken's classic have attempted modern remakes of or improvements upon Scorched Earth, but to this day, none has even begun to approach the solid feel, intricate balance, or professional production values of the original. That's how good it is.
Hicken didn't invent the artillery game; he perfected it. And as long as our computers run without smoking, we'll still be playing the original Scorched Earth as good Wendell intended.
Scorched Earth 1.5
Release Date:
1991 (1.0), 1995 (1.5)
Author:
Wendell T. Hicken (aka "Sprig")
Platform:
MS-DOS
Runs Best On:
Any 286 or 386 PC with 640K+ RAM and a VGA card
Notes:

Amazingly, Scorched Earth runs pretty well on modern computers under Windows. If the game seems too fast, adjust the in-game "Firing Delay" setting (under "Hardware"). You might also want to try running the game under DOSBox. The game uses the PC speaker for sound.
– Download Scorched Earth 1.5 – (633KB)