Friday, August 21st, 2009
In early June, I conducted a lengthy telephone interview with Scott Miller, founder of Apogee Software (now known as 3D Realms). Today, the interview is up on Gamasutra. This is sort of a companion interview to my earlier talk with Tim Sweeney of Epic Games (another shareware heavyweight), although both stand alone quite well.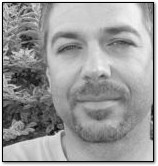 Apogee is best known for publishing dozens of episodic shareware games, including Kingdom of Kroz, Duke Nukem, the Commander Keen Series, Wolfenstein 3D, and Rise of the Triad. The company later changed its name to 3D Realms and scored a monster hit with Duke Nukem 3D.
Through Apogee, Miller revitalized and dominated the shareware game industry, invented episodic gaming, pioneered the use of the freely distributable game demo, and provided the spark that inspired id Software's founding.
During the interview, Scott and I went through his early days in programming, the founding of Apogee, the transition from simple shareware to 3D games, his interactions with id Software, his thoughts on shareware game competition in the early 1990s (including Epic MegaGames and Tim Sweeney), and much more. If you're a fan of BBS or shareware history, you won't want to miss it.
Giving Shareware the Attention It Deserves
The concept of shareware has for too long been seen as the red-headed stepchild of the computer game industry. It has oft been relegated to the metaphorical back pages and footnotes of the history books — if it shows up at all — and frequently looked down upon by "serious" publishers who never deigned to give away any version of their work for free (until Apogee came along, anyway). I'd like to change that, and I'm hoping that my recent interviews with Miller and Sweeney will lay the foundation for a deeper understanding of shareware's importance for future generations.
Although it might be a philosophy whose place in the sun has come and gone, shareware has not been an idea without merit or influence. As you're about to read, the story of Scott Miller, his partner George Broussard, and their company firmly prove otherwise.