Monday, September 29th, 2014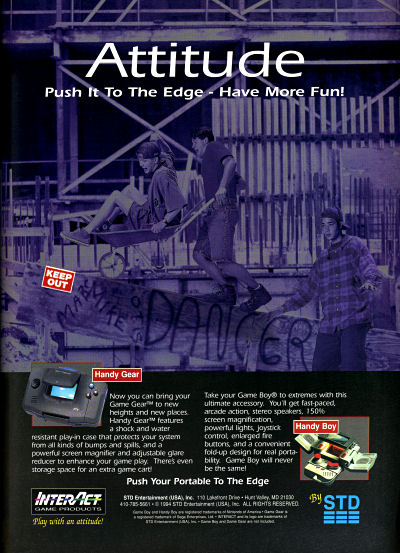 Push your friends to the edge — literally.
There is a certain irony to this pair of products by STD: one of them, the Handy Gear, makes your portable game console more rugged and less likely to break. The other, the Handy Boy, makes your console less rugged and more likely to break.
And both of them make you want to kill your friends, as this ad shows.
But seriously. One of my friends as a kid (who is amazingly still living) owned the Handy Boy accessory that snapped onto and around your Game Boy. The controller extension part looked cool but was useless and made playing games more difficult. But the magnifying glass and light were genuinely useful (especially the light part), since the Game Boy was notoriously difficult to play in low light conditions — which meant just about anywhere indoors.
By the way, long, long, long time readers of VC&G might remember that I lampooned this ad eight years ago in a column for GameSetWatch. But I just realized that I never featured it as a proper Retro Scan, so here it is.
[ From Electronic Gaming Monthly – November 1994, p.87]
Discussion Topic of the Week: Did you (or do you) own any notable Game Boy or Game Gear accessories? Tell us about them.
Tuesday, January 7th, 2014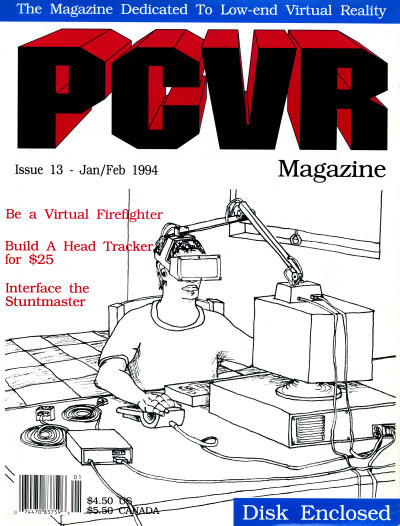 Every new idea is an old idea with more transistors.
A few years ago, a relative gave me a couple issues of PCVR Magazine, a low-circulation 1990s periodical dedicated to virtual reality. Here's the cover of the Jan/Feb 1994 issue, which features an illustration of the magazine's build-it-yourself head tracker project.
In the early 1990s, the "virtual reality" concept hit a peak in the popular media that coincided with dozens of companies pursuing motion-tracking head-mounted displays — both with honest attempts and blatant gimmicks.
If I had to guess why VR exploded in the popular tech consciousness at that particular time, I would trace it it to the emergence of small, relatively low-cost color LCDs — the kind that made portable consoles like the Atari Lynx and Sega Game Gear possible. Compared to bulky, power-hungry CRT displays, the (relatively) thin, low-power LCDs could be worn on the head with mobility and without too much discomfort. That prompted a minor Cambrian explosion of VR headset hardware.
But the display technology just wasn't there yet. Affordable LCDs were very low resolution (think 320×200 or less), and higher-resolution LCDs cost thousands of dollars a piece.
In addition, the hardware and software required to generate convincing virtual reality experiences were neither affordable nor generally available. So genuinely immersive VR found itself stuck in corporate and university research labs; meanwhile, the public got trickle-down fad headsets like the Stuntmaster.
Today, we find ourselves in the middle of a VR renaissance thanks to Oculus Rift. But this time, we may actually be at the edge of mainstream virtual reality headsets because the technology has come quite a long way since 1994. I look forward to meeting your 3D virtual avatar in cyberspace soon.
[ From PCVR Magazine, Jan/Feb 1994, cover]
Discussion Topic of the Week: Have you ever used a virtual reality headset of any kind? Tell us about it.
—
See Also: Retro Scan of the Week Special Edition: "At Last! Reality For the Masses!" (VC&G, 2007)
See Also: The History of Stereoscopic 3D Gaming (PC World, 2011)