September 29th, 2014 by
Benj Edwards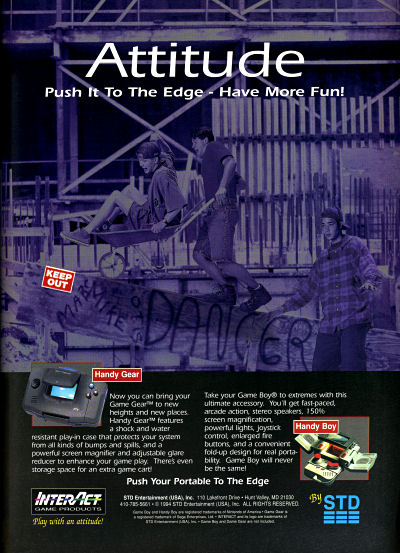 Push your friends to the edge — literally.
There is a certain irony to this pair of products by STD: one of them, the Handy Gear, makes your portable game console more rugged and less likely to break. The other, the Handy Boy, makes your console less rugged and more likely to break.
And both of them make you want to kill your friends, as this ad shows.
But seriously. One of my friends as a kid (who is amazingly still living) owned the Handy Boy accessory that snapped onto and around your Game Boy. The controller extension part looked cool but was useless and made playing games more difficult. But the magnifying glass and light were genuinely useful (especially the light part), since the Game Boy was notoriously difficult to play in low light conditions — which meant just about anywhere indoors.
By the way, long, long, long time readers of VC&G might remember that I lampooned this ad eight years ago in a column for GameSetWatch. But I just realized that I never featured it as a proper Retro Scan, so here it is.
[ From Electronic Gaming Monthly – November 1994, p.87]
Discussion Topic of the Week: Did you (or do you) own any notable Game Boy or Game Gear accessories? Tell us about them.